The Most Amazing Space Photos This Week!
A Taurid meteor lit up the night sky for 3.5 seconds over the eastern United States, the Hubble Space Telescope captured the ribbons of gas of a supernova remnant and astronauts struck a pose ahead of their launch to the International Space Station. These are some of the top photos this week from Space.com.  
Taurid fireball
Skywatcher Alex M. reported this fireball sighting to the American Meteor Society on Wednesday (Nov. 10). This bright meteor from the Taurid meteor shower lit up the night sky over Grasonville, Maryland shortly after SpaceX's Crew-3 mission launched to the International Space Station. 
Data from a NASA fireball camera in western North Carolina suggests that the rock had a mass of about 45 pounds (20 kilograms) and was about 10 inches (25 centimeters) wide. The rock was traveling at a speed of approximately 33,000 mph (53,000 kph) and its bright appearance was visible for only about 3.5 seconds. 
Full story: Brilliant fireball lights up night sky after SpaceX Crew-3 astronaut launch
Chaotic beauty of DEM L249
These ribbons of strewn gas are part of an unusual supernova remnant known as DEM L249. Its chaotic beauty is visible in this new image from the Hubble Space Telescope. 
Astronomers have used data obtained by NASA's Chandra X-ray Observatory and the European Space Agency's (ESA) XMM-Newton space observatory to learn that the gas, which appears here in a bright red color, was hotter and brighter than the remnants of other categorically-similar supernovas. DEM l249 is located in a small neighboring galaxy called the Large Magellanic Cloud (LMC). 
Full story: Hubble telescope captures cosmic remains of unusual white dwarf supernova
Chinese space walk 
The astronauts of China's Shenzhou 13 mission performed their first spacewalk on Nov. 7, 2021. Shenzhou 13 mission commander Zhai Zhigang and colleague Wang Yaping exited the core module of China's new space station to continue constructing it. 
Their 6.5-hour extravehicular activity was the first two or three planned for the six-month-long Shenzhou 13 mission. One of the main tasks during this space walk was installing a dual-arm connector to the core module's 32.8-foot-long (10 meters) robotic arm.
Full story: China's first Shenzhou 13 spacewalk sees 2 astronauts test suits, robotic arm
Celestial photobomb
Venus (right), the moon, Saturn (center left)  and Jupiter (far left) appear in the twilight sky behind this shot of the company's Falcon 9 rocket and Crew Dragon Endurance. SpaceX launched the four astronauts of Crew-3 to the International Space Station the following day (Nov. 10) from NASA's Kennedy Space Center in Florida. 
Full story: The moon, Venus, Jupiter and Saturn photobombed SpaceX's Crew-3 rocket and it's just stunning
Strike a pose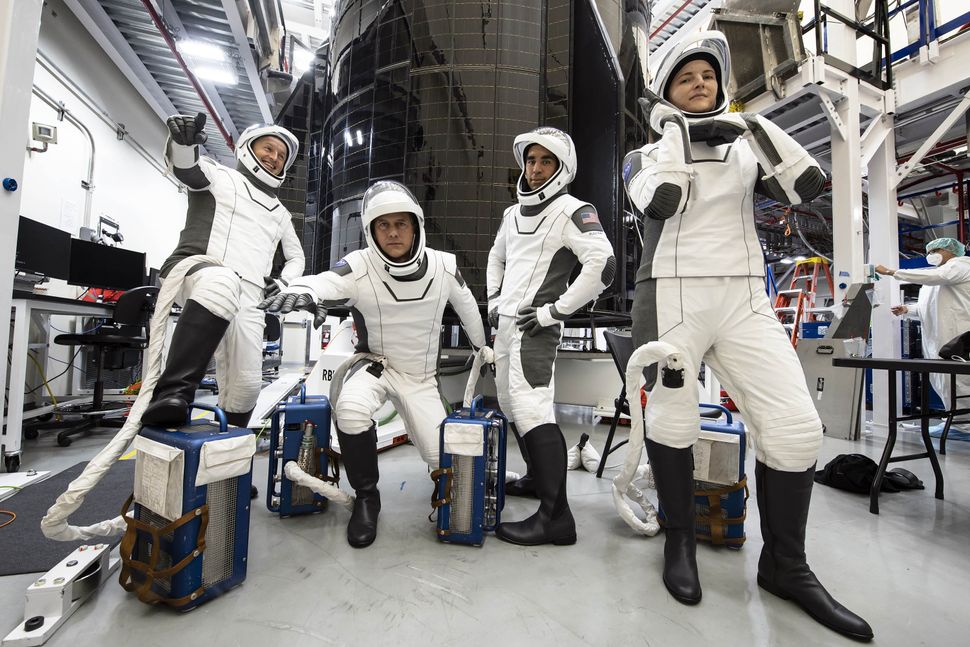 The four astronauts of SpaceX's Crew-3 mission for NASA strike a pose in their launch suits ahead of launch. They are: (from left) ESA astronaut Matthias Maurer, mission specialist; NASA astronaut Tom Marshburn, pilot; Raja Chari, commander; and Kayla Barron, mission specialist.
On Wednesday (Nov. 10), SpaceX launched them to the International Space Station for NASA. Liftoff occurred at 9:03 p.m. EST from NASA's Pad 39A at the Kennedy Space Center in Florida.
Full gallery: In photos: SpaceX's Crew-3 astronaut launch for NASA
Satellite images reveal how cities eat up land
In this animated image, the Thai capital Bangkok, can be seen spreading farther and farther away from the Chao Phraya River delta on the shores of the Gulf of Thailand. The images were collected as part of the World Settlement Footprint project, spearheaded by the Google Earth Engine. The visualizations, showing the scale of global urbanization, were revealed during the United Nations Climate Change Conference (COP26) in Glasgow, which is concluding this week. — Tereza Pultarova
A merger of distant galaxies observed by South African radio telescope
A collision of two distant galaxy clusters taking place millions of light years away from Earth has been captured by the South African MeerKAT radio telescope. The image spans approximately 10 million light-years and is sprinkled with point-like radio emission from even more distant Milky Way-like galaxies.
The radio image also reveals clouds of gas in the intergalactic space, stirred up as the clusters spin around each other pulled ever closer by their enormous gravitational forces. The image was obtained as part of a large-scale imaging campaign that surveyed radio emissions from 115 clusters of galaxies. The observations, comprising over 1,000 hours of telescope time, were conducted in the year after MeerKAT's 2018 inauguration. — Tereza Pultarova
Crew Dragon departs against coral atoll backdrop
The Crew Dragon capsule Endeavour can be seen in this image against a range of Pacific coral islands shortly after its departure from the International Space Station on Monday (Nov.8).
The picture, taken from aboard the orbital outpost, captures the Dragon capsule during a fly-around maneuver, which it performed shortly after detaching from the station's Harmony module. The capsule completed a circle around the station at a distance of  660 feet (200 meters) to allow astronauts to photograph the orbiting laboratory before heading off to Earth. — Tereza Pultarova
Thomas Pesquet getting used to gravity after six months in space
The European Space Agency (ESA) astronaut Thomas Pesquet after exiting the SpaceX Crew Dragon capsule after splashdown off the coast of Florida on Monday (Nov.8).  Pesquet is seen in this video supported by a medical team as his body adjusts to gravity after 199 days in weightlessness aboard the International Space Station. Astronauts experience widespread changes in their brain and body during spaceflight including bone and muscle loss, some of which take months to reverse. 
Immediately after landing, astronauts tend to have problems with balance and movement coordination. According to NASA, these problems usually resolve after three days back on Earth. — Tereza Pultarova
Space station crew enjoys most spectacular aurora thanks to cannibal eruption
Astronauts at the International Space Station enjoyed the most spectacular aurora display of their entire mission over the weekend after a massive blast of material from the sun reached our planet. 
The sun has been acting out lately, waking up to its new period of activity after years of quietness. This variation is part of the sun's regular 11-year cycle, the little understood ebb and flow of sunspots and solar flares that is next set to peak in 2025. The latest aurora feast, observable from locations much farther to the south than usual, also delivered a stunning spectacle for the current space station crew. — Tereza Pultarova
Join our Space Forums to keep talking space on the latest missions, night sky and more! And if you have a news tip, correction or comment, let us know at: [email protected]